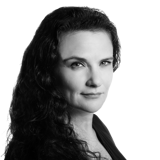 Andrea Wood, independent registrar and art management consultant, has over 22 years registration experience. Through her New York based business, Andrea Wood Art Management, she currently manages art collections for private collectors and artists, as well as working with museums and galleries on exhibitions and collections projects.
Her past experience includes positions as Registrar for the artist Alex Katz, Senior Registrar at the Citigroup Art Advisory Service, Exhibitions Coordinator and Registrar for The Whitney Museum of American Art's Traveling Exhibitions Program, and Registrar for The Andy Warhol Museum. She was the lead coordinator with the State Department's largest Presidential Millennium Project, touring an Andy Warhol exhibition with US Embassies and Consulates throughout Eastern Europe and Post-Soviet countries for two and a half years.
Andrea is one of the founding board members of the international non-profit ARCS – Association of Registrars and Collections Specialists, which was founded in 2012. She has been an active member and board member of other professional organizations, most notably the American Alliance of Museums Registrar's Committee (RC-AAM) since 1993.