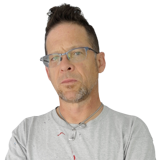 Celebrated for his music, Jason Newsted's visual art boasts dynamic energy parallel to his heavy metal history. His inherent need for expression was awakened at an early age through creating images & music.
Newsted received his first bass guitar at age 14 in 1977. Shortly after, he traveled west from his family home in Michigan and landed in Arizona, where he worked tirelessly to realize his musical dreams. In the autumn of 1986, he arrived in San Francisco to join Metallica, with whom he recorded and performed as bassist and vocalist for 15 years in 50 countries, earning six Grammy Awards and his induction into The Rock and Roll Hall of Fame.
In 2005, as a result of three career-altering shoulder surgeries, Newsted turned his attention to visual arts. Challenged with the temporary immobility of his right arm, he learned to use the opposite hand in mark-making, and presently continues to execute all of his works ambidextrously.
In painting and drawing he found a new means of creative expression; The musician's experience with conjuring images is joyful, filled with wonder, and possesses the freedom of a confident and experienced creative soul. Jason's colorful efforts are a reflection of the evolution of a well-traveled, multi-faceted artist.
Newsted is an introspective and youthful artist who never stopped dreaming.
He is graced with gratitude for his past and a bright outlook for the future, evident through his unyielding work ethic. His images are made with intention and a careful consideration of aesthetics, relying heavily on instinct and a primal approach with any given medium, making these works uniquely his.
Newsted values his work in musical and visual art in like manner, and has selected the pieces for this show to represent a synergistic melding of the two; demonstrating his unique connections within these forms.
"The pictures look like the music sounds!" — anonymous Newsted collector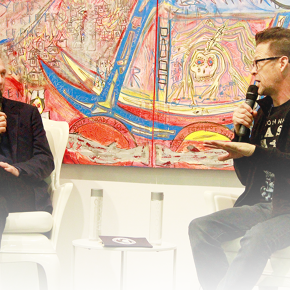 save