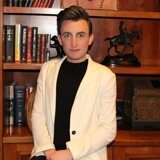 Joshua co-founded and is CEO at Agaport, a technology-based logistics firm that focuses on demystifying Freeports and FTZs. Agaport's agile approach to logistics is anchored by technology. A robust platform aligns business needs with FTZ regulations, availability, and object requirements to surface bespoke solutions, perfectly tailored to the movement and fluctuations of the most active collections.
Joshua is a Product Strategy Associate at Arthena. In this role he reports to the CEO, supporting product fundraising/financing, operations planning and testing, business development, and investor relations.
Joshua enjoys the intersection of art and finance. He worked for Leo Xu Projects in Shanghai, Christie's New York, and the Executive Office at Goldman Sachs, where he joined teams in the Office of the Chairman, Brand and Content Strategy, Investor Relations, and Firmwide Strategy, contributing to internal and external global initiatives. He sits on active committees for the Whitney Museum, Parish Museum, and Performa. Joshua studied Art History and International Business at George Washington School of Business.