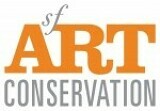 Art Conservation focuses on the treatment, preservation and maintenance of three-dimensional art including sculpture and contemporary art, decorative arts, furniture, Asian art, and ethnographic materials.
The company quality of service and conservation treatment is demonstrated by the client list. They are under contract by San Francisco Arts Commission and the City of Pleasanton for ongoing maintenance of the City Collections, work regularly with major museums such as SFMOMA and Berkeley Art Museum, California Academy of the Sciences, and exclusively maintain several major Bay Area art collections, as well as a number of smaller collections.
Director and principal conservator Rowan Geiger has over twenty years of experience in arts conservation, holds a Masters Degree in Conservation from the Royal College of Art/Victoria Albert Museum Program in London, and is a Professional Associate of the American Institute of Conservation. She was Head of Conservation at SFO Museum, and has held staff positions as an object conservator at SFMOMA, Fine Arts Museums of San Francisco and the Asian Art Museum before establishing SF Art Conservation in 2009.