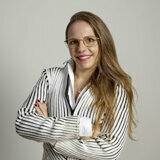 Bianca Cutait is a Senior Specialist for Bonhams Post-War & Contemporary Art department in Miami. She sources artworks and assists clients in Miami and Latin America.
Before joining Bonhams in 2022, Bianca founded the international art advisory firm Arte Fundamental with a gallery in Miami, exhibiting American and Latin American artists as well as NFTs and digital art. She previously held roles in many different aspects of the art industry in Brazil, the United States and Switzerland. Bianca has also written widely on the art market for major publications such as Robb Report Brazil, Forbes, and Vogue.
Originally from São Paulo, Bianca is fluent in five languages, including English, Portuguese, and Spanish.
Get to Know Me
What are the most interesting aspects of your work?
I have worked in different realms of the industry, starting as an artist, then becoming an advisor, a gallerist and now a specialist at auction. It is fascinating to have transited in all these positions and being able to learn it all from the inside.
What international art destination do you want to visit most?
I would love to visit South Korea's museums and art scene, which I have not yet gone. And I want to go back to Mexico and explore further the art scene, which is very rich.
What work of art do you wish you owned? What would you do to get it?
I would love to have a piece by Heinz Mack, I am totally in love with Group Zero and everything related to it, but Heinz Mack is my absolute favorite. I have traveled to several locations to visit exhibitions, such as Istanbul, Dusseldorf, London...