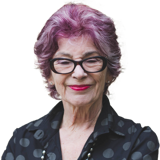 Olga Korper was born in the Czech Republic and has lived in Canada since 1951. She graduated from the Ontario College of Art and Design and the Ontario College of Education. She was Art Director for Rexwood Publications for two years and subsequently taught art in Toronto and Montréal for four years. She took a year to travel around the world and opened Gallery O in 1973. In 1982 the gallery was renamed Olga Korper Gallery and moved to 80 Spadina Avenue with Wynick/Tuck. In 1989 the gallery moved to its current location, a renovated foundry at 17 Morrow Avenue in the west end of Toronto. Olga was President of the Art Dealers Association of Canada for four years, and served on the Board of Directors of the Canadian Property Export Review Board for eight years and was awarded an Honorary Fellowship from OCAD in 2001.
Olga has been director of the gallery for almost 45 years, having dedicated her life and career to the service of conceptual contemporary art. She has worked tirelessly with serious collectors in both private and corporate spheres, placing artwork in homes, museums, banks, and businesses around the world. Olga served 8 years on the Canadian Cultural Property Export Review Board, 3 years on the board for the Contact Photography Festival, and in 2013 she received the Lifetime Achievement Award from the Art Dealer's Association of Canada. Olga has consistently been a source of wisdom and guidance for artists, fellow dealers, and aspiring collectors, granting an audience to anyone who seeks advice in her Queendom – the kitchen of 17 Morrow Avenue. Since 1989 the gallery has doubled as Olga's home, where she can be spotted with a cappuccino and her royal hound, Kiwi.
Olga Korper Gallery is committed to the promotion and exhibition of Canadian and international contemporary art of all media, both locally and abroad. The gallery currently represents artists Lois Andison, John Brown, Kristina Burda, Lynne Cohen, Christine Davis, Stan Denniston, Matt Donovan & Hallie Siegel, Robert Fones, Angela Grauerholz, Susanna Heller, Barbara Hobot, Meaghan Hyckie, Marianne Lovink, Ken Matsubara, John McEwen, Greg Murdock, Bobbie Oliver, Reinhard Reitzenstein, Ron Shuebrook, Barbara Steinman, Tim Whiten and the esteemed Estates of Canadian artists Roland Brener, Louis Comtois, Paterson Ewen, and Denyse Thomasos. Olga Korper Gallery is the sole representative of the Robert Mapplethorpe Estate for Canada.