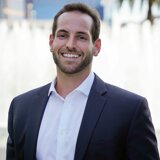 Ramsey Andrijevich joined Lido in 2023 where his primary focus is to establish and maintain personal relationships with every client. He takes great pride in his involvement in his clients' experience by preparing presentations, analyzing asset allocations, and performing comprehensive financial planning, all with their individual goals in mind. Ramsey also has extensive awareness of the challenges facing collectors of Fine Art & Tangible Assets. He helps collectors coordinate with other professionals to mitigate risk, plan for tax considerations, and devise estate and legacy plans.
He previously worked as a Wealth Advisor at First Foundation Advisors. Additional prior experience included Relationship Management with Purus Wealth Management and Advisor Training & Support with Waddell & Reed Financial. He is a member of the Newport Beach Arts Foundation and the Laguna Beach Festival of Arts.
Ramsey is a CERTIFIED FINANCIAL PLANNER™ professional. He earned his Bachelor's in Economics from the University of Missouri, Kansas City.
Get to Know Me
What do you do in the art world?
I work with clients to ensure they consider all aspects of collecting, and how their collections fit into the rest of their estate. From risk management, to estate and philanthropic planning, I help clients identify strategies to achieve their financial goals.
What international art destination do you want to visit most?
Gobekli Tepe. Hunter-gatherers were not supposed to be able to build megalithic construction. Neither were they thought to have had religion. Evidence for both resides at a site in Turkey that was intentionally buried after it was built some 12,000 years ago. I have to go visit that place. Soon.
Tell us about the most recent / last piece you acquired?
Monsoon - Kim Manfredi. 8x10 oil on wood. Impressionistic depiction of a late-afternoon monsoon on a beach. Curtains of water flash across the sky as if they were verticals walls of water.