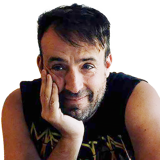 Ted Riederer (b. 1970, New York, NY) has armed himself with painting supplies, electric guitars, amplifiers, record players, drum kits, photography equipment, and long-stemmed roses while ambling from the Americas to the Antipodes. His work has been shown internationally, including exhibitions at MoMA PS1, Prospect 1.5, Go and Rosenthal Berlin, Nicole Klagsbrun Gallery, Jack Hanley Gallery, Context Gallery, David Winton Bell Gallery at Brown University, University of South Florida Contemporary Art Museum, the Liverpool Biennial, and the Dhaka Arts Center in Bangladesh. The Tate Modern sponsored his Never Records project, which has traveled from New York to London, New Orleans, and Amman, Jordan. Riederer is also the Artistic Director of Howl! Happening: An Arturo Vega Project, a non-profit gallery/ performance space in New York.
Tone Pictures: Our Year of Dissent
At the birth of the recorded sound, the first commercially available recordings were called tone pictures. The 1904 Columbia records catalog reads like a transcendental poem: Evening Chimes in the Mountains, The Forge in the Forest, A Shriek of Shells.
Tone Pictures evolved into a category of recordings called Descriptive Specialties, many of which have been digitized and are available from the Library of Congress's National Jukebox. These titles attempt to paint audio portraits of life at the advent of the 20th century, and present a distinct aesthetic experience: Two Rubes in a Tavern, The Passing of a Circus Parade, and Coming Home from Coney Isle.
Tone Pictures: Our Year of Dissent is an audio-visual poem by artist Ted Riederer that is an attempt to capture the persistent echoes of our time. Since 2010, has traveled the world with his conceptual art project Never Records. From the Mississippi to the river Jordan, Riederer has recorded and cut to vinyl over 500 performances in 7 cities around the world. Never Records continues to grow while remaining faithful to its original objective: to create community across social, political, and religious division.
Tone Pictures: Our Year of Dissent will feature photo emulsion prints made with records that Riederer will record and cut to clear vinyl. Like insects in amber, these prints are an attempt to freeze an echo in time. Riederer is using the vinyl records like photographic negatives to capture traces of ephemeral sounds.
The records will represent a selection of audio recordings collected and recorded by Riederer whose titles will write a poem of this moment in our shared history: My Father with Dimentia Trying to Remember, The Heartbeats of My Lover on the Eve of our Marriage, The Sound of Trains at Midnight, The Protests on April 15th, 2017.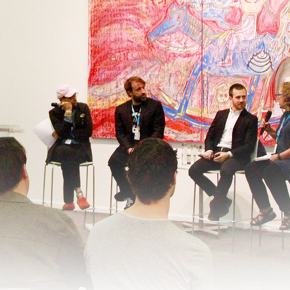 save
Art and Activism
Ted Riederer, Rhonda Long-Sharp, Daniel S. Palmer, Bruce Helander