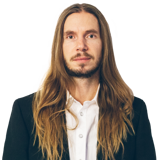 Manhattan based mural and studio artist Tony "Rubin" Sjöman (b.1975) has painted all over the world and his works have been shown in galleries throughout the US and Europe.
Sjöman's roots are in Finland and Sweden and he draws inspiration from his Scandinavian heritage for his complex abstract geometrical murals and studio works. Sjöman has become a staple of the art scene of New York City and beyond. His murals can be seen in a wide variety of spots in and around the city: in churches, in hotels and high-end boutiques, in luxury high-rises throughout Manhattan and on the 69th floor of WTC 4. Sjöman's studio works are based on canvases, prints and installations and he is no stranger to painting on metal and wood. Rubin's studio works have been on display at Scope New York, Scope Miami and Art Miami during Art Basel, as well as in galleries throughout New York City, Miami and Los Angeles.
Sjöman's art has been featured in NBC News, New York Post, NY1 News, Vice Magazine, Time Out New York among other media outlets. His works have also been featured in catalogues for design brands and he has worked with several leading US real estate developers, who have been looking to enhance their commercial appeal through art.