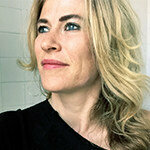 Amelie Chabannes is an artist who works in sculpture, installation, Drawing and video. Chabannes was born in Paris, France. She studied Architecture and Fine Arts in French Art School, ENSAD. She worked for several years with Architects and Designers on major projects, including a Cultural Center In Riga, Latvia. She moved to NY in 2005, she currently lives and works in Brooklyn, NY. Her work has been exhibited in international venues that includes: The Aldrich Museum of Contemporary Art (CT, USA), Middle Gate Geel 13', Gasthuismuseum, Belgium in 2014 (curated by Jan Hoet) Critically acclaimed art festival Crossing the Line in 2009 and 2011 (curated by Lili Chopra and Simon Dove, New York, NY) Kunsthalle am Hamburger Plaz (Berlin, Germany) Museo De Arte Moderna (rio de Janiero, Brazil) Galerie Hussenot (Paris, France), Stephan Stoyanov Gallery (New York, NY) NADA Sculpture exhibition (Miami, Florida).Syracuse University Art Center -The Red House (Syracuse, New York) the 798 Biennale (Beijing, China) Galeria Fernando Zubillaga (Caracas, Venezuela) S.E gallery (Bergen Norway) CB1 Gallery (Los Angeles, US) White Box (new York NY) Galerie Of Marseille (Marseille, France) Museo Frantz Mayer (Mexico City, Mexico) Drawing Now 2014 and 2012(Solo Shows. Louvre, Paris).
She has been awarded by the International Center Award of Excellence for Fine Arts (New York, NY) along with artist Yoshitomo Nara and received The Pollock-Krasner Foundation grant as well as the Joan Mitchell foundation Grant. She has been reviewed in publications such as The New York Times, The Wall Street Journal, Art In America, Flash Art (Us and Italy), White Wall Magazine, City Art, Timeout New York, Liberation, France-Amerique, Flavorpill, M Magazine, Elle (France), Architektur and Wohnen, Verso Arts et lettres, The Visual Art beat Magazine among others. Selected collections include the Progressive Collection, Cleveland, Ohio as well as numerous private collections in the United States, Europe, Russia and Japan. Exploring the limitless notion of Identity, its various derivations and representations within philosophy, psychology and art history has been the main subject fuelling my work over the past years. I first aspired to associate the exploration of the self with geological procedures and gestures. My recent installations embody excavation sites where sculptural objects were submitted to raw destruction as well as meticulous recovery, in which debris and artifacts are observed as remains of our individuality. Deconstruction and iconoclasm became main references and actions in my recent practice, leaving more authority to the process, pushing away the literality of the subject, and enriching the conceptual aspects of my work.
In my drawing projects, the primary research focuses on a selection of extreme collaborations, situations of extensive dependency that exhausts the sense of individuality. In the series "Double Portraits and a fourth hand" I used documents depicting paintings from Oskar Kokoschka with his lover, Alma Mahler, photographs of Marina Abramovic and Ulay while they closely perform, pictures of Genesis P orridge with Lady Jay attempting to resemble one another. This body of work follows a strict and systematic process. A map of the original document is built upon numerous layers of tracing paper; the data is endlessly flipped over, transferred and overlapped on a wood panel until the borders of each of the protagonists fade away. The image and its representational aspect is altered by its own repetition. Then, the drawing and the wood Panel it lies on are partially or entirely demolished. Not only I aim to challenge the highly established icons and predominant art history narratives and values; I also hope to face up to my own work, the conventionality and sacralization of its fabrication, the endurance and time, the production involved and its new inner possibilities. On one of the walls of my studio stands a picture of the Erased de Kooning drawing by Robert Rauschenberg. Not only this particular work led fundamentally to my most recent projects, but it also constantly reminds me the necessary quest for the new ways of expression.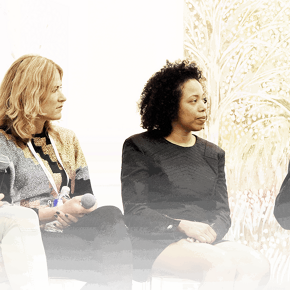 save