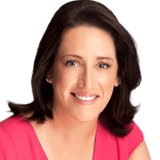 Megan Fox Kelly builds and manages collections for an international mix of individuals, museums, estates and foundations.  Her full service advisory business provides curatorial and market advice and museum-quality fine art services for collectors, attorneys, financial advisors and estates.
Her academic training includes an MA in the History of Art from Brown University.  Megan's professional training began in the Curatorial and Special Exhibitions Departments of the National Gallery of Art, Washington, DC.  This strong foundation in proper museum practice continues to inform her work for clients today.
After ten years in the international art business, she established Megan Fox Kelly Art Advisory in New York in 1999.  Megan has curated collections of important 19th and 20th century American and European art, Post-War and Contemporary art, and vintage and contemporary photography.
In addition to advising clients on acquisitions and sales of works of art for their collections, her practice includes collection management, estate planning and execution, strategic planning and feasibility studies for museums, exhibition planning and administration, and fine art appraisal services.  Megan has served as the advisor to numerous artist and collector estates including the Estate of Michael Crichton and the Estate of Robert DeNiro, Sr.
Megan is a board member of the Association of Professional Art Advisors.  She is an U.S.P.A.P. certified appraiser and has a Certificate of Appraisal Studies from New York University.  She is a well-regarded expert and speaker specializing in the art market and collecting.