5 Questions with Accredited Appraiser Frances Zeman
Apr 12, 2022
We had the pleasure of sitting down with Frances Zeman, who has been an active member of the American Society of Appraisers (ASA) since 1980. Her broad client and appraisal experience includes Insurance placement and loss, Estates & Trust matters, Charitable Contributions and other Wealth Management strategies.
But when we really got deep into things, we found out that in reality, her profession allows her to satisfy a favored passion for retail therapy! So, let's see what else we can find out about Fran...
What do you do in the art world?
I am an ASA accredited appraiser of Fine Art and Decorative Arts and Antiques.
Did you receive any education, training or mentorship that has helped you excel in your career?
A good academic education, including an MA in art history provided a sound basis on which to expand my love of the arts. Joining the American Society of Appraisers and availing myself of their outstanding educational programs provided me with an understanding of what it means to be professional, that appraisal is a profession rather than a trade, and that there is a specific vocabulary to know and methodology to follow; all of these  helped me to advance my career. Many experienced appraisers in the organization provided encouragement and mentorship – both of which were so very important.
What are the most interesting - or most challenging - aspects of your work? 
Every appraisal is an argument for value. Among the most challenging and rewarding problems involve unique properties that seemingly have no answer – but there always is.  Every client is different and to be able to serve each and to meet their needs is one of the most rewarding aspects of my professional career.
Describe your average workday.
We keep to a monthly/weekly plan in terms of projects in house, schedules and progress on each work file; any changes needed are noted. Staff and I keep current with clients and the progress of all appraisal reports and other assignments. Technical issues, emails and phone calls are part of each day.
Any words of advice for emerging professionals trying to make it in the art world?
Academic and professional education are a must – knowledge is a powerful tool. Keep current, never stop learning. Be ethical and follow the standards of your profession. Always reach high.
Learn more from Frances by watching the free webinar, What it's Worth: Prepare Today for Tomorrow. Along with Edith Yeomans, she will explain why, before thinking about how much your valuable property is worth, it is important to know what you have.
Author
Frances Zeman
A member of the American Society of Appraisers (ASA) since 1980, Frances Zeman graduated with a B.S. degree from the University College of New York University and earned an M.A. degree in Art History from Brooklyn College (CUNY). She is accredited by the American Society of Appraisers to appraise Fine Art, Antiques and Decorative Arts, Oriental Rugs, Residential Contents-General, and has...
read more
Recommended Videos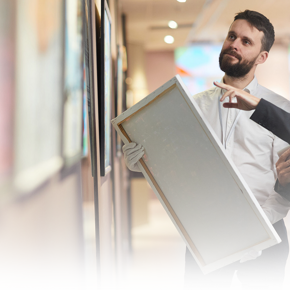 save