The Return of Art Fairs Post-Pandemic
Feb 1, 2023
As we continue our return to normal life and things open up more and more, art fairs are roaring back. This comes as great news to artists, collectors, galleries, and host cities — not to mention the fair organizers themselves. Art fairs are also important cultural and economic events, allowing for people to spontaneously discover their new favorite artist and for all of us to get a vibe check for the moment.
So let's look at the return of art fairs. How is it going and what's different about them moving forward?
Back From the Brink
With Covid prevention measures, many feared that the form of the art fair would become obsolete. In the last decade, the internet has provided a direct link between artists and collectors like never before. As lockdowns shuttered galleries and art fairs, more and more people engaged with art buying online. It seemed like the time had come for a major shift to take place.
But luckily, as soon as people had the chance to return to the art fair, they did. By 2021, many art fairs were coming back — albeit in smaller and more protective forms. By late 2022, things seemed to be fully back to normal, with major events like Art Basel showing extremely healthy attendance. The catastrophic predictions of the art fair's end have now dried up entirely.
Covid and Art Fairs
The truth is, while Covid is now much more under control, there are still many collectors, artists, and gallerists concerned about it. That means that organizers have had to negotiate this complicated issue every step of the way. More than anything else, this has shaped the new post-pandemic art fair.
During the first year, many art fairs were canceled altogether, yet others like Art Paris and Vienna Contemporary continued in 2020. The controversy around these decisions put pressure on organizers from all directions, and this became only more true as fairs came back. When art fairs began to return in greater numbers through 2021, organizers struggled to strike a balance between safety and the fundamental togetherness that these events represent. There was no one single policy that everyone followed, except masking.
Other rules could get much more complicated. Miami Art Week 2021, for instance, had a dizzying number of different protocols depending on which fair you went to. This didn't seem to have much of an icing effect. While attendance was down everywhere, organizers were able to put together profitable events.
Today, art fairs are by and large back to normal, with masks optional almost everywhere. Proof of vaccination, once a pretty common requirement for entry, has since been lifted almost entirely.
The Rise of Art Fairs in Asia
Maybe the most uplifting news is the increasing interest in art fairs around the world, particularly the white-hot art market in Asia. It should come as no surprise, as the continent now represents the largest share of global art sales — yet they've lagged behind in the development of major art fairs.
But that's all changing. In 2023, the brand new ART SG and the returning India Art Fair have shown that this format is gaining momentum in southern Asia, able to attract global buyers as well as activate and engage collectors in their area. Along with the upstart ART SG in Singapore, Tokyo Gendai launches onto the world stage in July. The Japanese economy is enormous, yet regulations on art imports have dampened their spending in the past. Those have since been lifted, and now they are ready to unleash their incredible buying power. This new art fair will have around 80 galleries presenting work in an exciting new locale.
This is in-line with what we've seen in the last handful of years, like the new Frieze art fair in Seoul, which debuted in 2022 to major success. South Korea is another major economy that's been underserved by the art market, something that is being corrected more and more. The Asian art fair calendar will no doubt continue to fill in, probably creating more can't-miss events.
Rethinking the Art Fair
In 2021, art fairs were coming back to the fray after two years. That extended break gave organizers a lot of time to rethink and retool their approach to how art fairs look and operate. But much of this opportunity was taken up by concerns around getting tens of thousands of people to follow safety rules.
By 2022, innovations really started to trickle in. We saw several excellent ways to integrate hybrid in-person and digital events and programming, something that greatly expanded the amount of people who could see and enjoy the artwork on display. Those were often being implemented only the first (or, at most, second) time. But these new ideas are continuing to grow and expand, especially now that so many tech platforms are looking to move offerings into virtual reality. For the foreseeable future, every year will bring headlines about how major art fairs are using digital solutions to augment the in-person experience and create ways to engage fully online.
The addition of online programming means more people can participate and, crucially, spend money. So it will likely prove essential for art fairs going forward. Take a look at the fair programming One Art Nation created prior to the pandemic.
These technological innovations have combined with the more economic reforms that occurred at major art fairs over the late 2010s. In that time, booth fees at major events like Art Basel became scaled to the size of the gallery, making things much more profitable for small and midsize galleries. If the hurdle to participate in the hybrid programming can follow that same sentiment going forward, fairs look to become even more important to the art world at every level.
Become a 1AN Member to be kept in the loop on what's happening in the art world plus access 100's of art collecting videos online!
Recommended Videos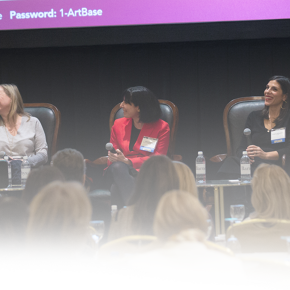 save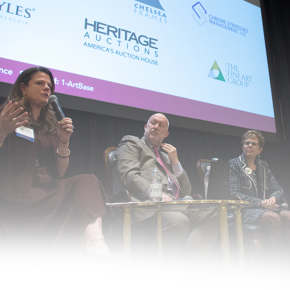 save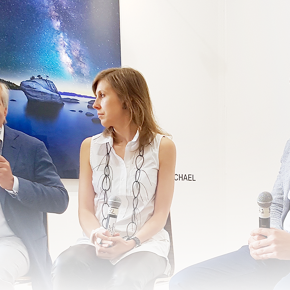 save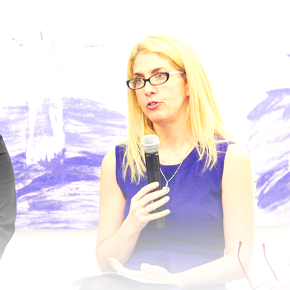 save